Online History Assignment Help
Getting history assignment help in a range of history topics from assignment writers can help students comprehend the important topics and develop a deeper understanding of the backstory of a topic.
MyAssignmenthelp.co.uk has over 3000 tutors, subject matter experts, and history assignment writers with vast knowledge and professional expertise to help you excel in history and sister disciplines and earn higher grades.
History Assignment Help Advantages
Looking For History Assignment Help?
Place Your Order and Get $20 Signup Bonus
What is History?
History is the study of past events, particularly human events. It involves the analysis, interpretation, and synthesis of information about past societies, cultures, economies, political systems, and individuals. History seeks to understand how and why events unfolded as they did, and how they have shaped the world we live in today.
Historians rely on a wide range of sources to reconstruct the past, including written records, oral histories, artifacts, and archaeological remains. They use a variety of analytical tools and approaches to examine these sources, including chronology, causation, continuity and change, and comparison.
What are the Key Concepts of History?
The key concepts of history can vary depending on the context and approach taken by historians, but some common concepts include:
Change:
History is concerned with the study of how societies, cultures, and individuals have changed over time. It examines the causes, processes, and consequences of these changes.
Continuity:
At the same time, history also recognizes that there are certain aspects of human experience that remain constant over time, such as the need for food, shelter, and social interaction.
Causation:
Historians try to identify the causes of historical events and changes, and to understand how different factors interact with one another to produce historical outcomes.
Context:
Historical events and changes cannot be understood in isolation; they must be examined within their larger social, cultural, economic, and political contexts.
Agency:
While larger social, economic, and political forces can shape historical outcomes, individuals and groups also have agency and can shape their own destinies.
Bias:
Historians recognize that all historical accounts are subjective and reflect the biases, perspectives, and values of the historians who write them.
Evidence:
History is based on the examination and interpretation of evidence from a variety of sources, including written documents, material artifacts, and oral traditions.
Significance:
Historians must also consider the significance of the events and changes they study, both in their own time and in later periods. They ask questions such as, "Why is this event important?" and "What impact did it have?"
These concepts are not exhaustive, but they are fundamental to the study of history and help historians to make sense of the past.
Topics We Cover Under Our History Assignment Writing Service
With state-of-the-art resources and a brilliant team of history assignment writers, tutors, and subject experts, MyAssignmenthelp.co.uk aims to offer plenty of subject options to students requesting, "please help me with my assignment in history." Our tutors follow the specifications of the letter and make sure students get top-notch solutions without any errors and writing flaws.
Below are some popular sub-areas students approach us for history assignment help.
Ancient History Assignment Help
No more delaying your assignments on ancient history, fearing the length and intricacies. Contact our tutors for urgent history assignment help and solve your assignment-related woes.
Medieval History Assignment Help
Papers on medieval history are impossible to complete without quality resources. However, seeking assistance with your history assignment and requesting help with your studies is now a cakewalk. Just call us for immediate support.
Modern History Assignment Help
Is composing flawless assignment answers in modern history a farfetched dream for you? Not anymore! Seek help from our tutors and easily create stellar assignment answers in history.
Branches of History Assignment Help
Don't jeopardize the chances of getting good grades with inadequate subject knowledge. Instead, collaborate with our subject experts for history assignment help and master topics from different branches of history.
Political History Assignment Help
It's time to let go of thoughts like "I wish someone could help me with my assignment in history" and get the necessary support to do well in the subject. Our tutors are all ears for you 24x7!
Social History Assignment Help
When history assignment writing services are available for personalized study support, why sacrifice your sleep to meet the deadline? Work with our social science assignment helper team instead and create an 'A' quality paper from scratch like a topper.
Economic History Assignment Help
Struggling to get your head around the chapters of economic history? Worry not! Share your difficulties with our tutors offering history assignment writing services, develop an in-depth understanding of the chapters, and gain confidence in the subject.
Diplomatic History Assignment Help
Assignment answers on diplomatic history illustrate students' understanding of the subject and decision-making abilities while highlighting their crucial academic skills. Considering its significance, our PhD-qualified history professors would be the perfect match if you need guidance with diplomatic history papers.
Art History Assignment Help
Our tutors offering help with art assignments for history possess outstanding academic knowledge and professional expertise. They have mentored thousands of students with Art history assignments and can help you create plagiarism-free assignment answers in art history.
Food History Assignment Help
Requesting food history assignment help will get you step-by-step help with tricky assignment questions. Our tutors will explain from scratch and resolve doubts using the most suitable teaching approach.
History of Science and Medicine
MyAssignmenthelp.co.uk is a pioneer in the academic industry and has offered legit history assignment help in all areas. Learning under the supervision of our tutors will be advantageous as they are well-versed in the requirements of different universities and subject areas.
Cultural History Assignment Help
Learning cultural history and getting a degree can help students explore several career options. Hence, let our tutors assist you with your cultural history assignment and help you achieve the rigorous quality parameters to bag higher grades.
Women's History Assignment Help
The history assignment writing service is what you need to get the necessary guidance to complete complicated history assignments like a term paper or dissertation without losing your sanity. Our tutors can offer you the best support and overcome challenges like winners.
Intellectual History Assignment Help
Intellectual history is tricky, and students must thoroughly understand the topics to meet their professors' expectations. Thankfully, you have our tutors to assist you with your intellectual history assignment and help you create top-quality solutions to impress your graders.
Environmental History Assignment Help
Writing a dissertation on any topic from environmental history can be stressful, especially when your grades are at stake. Get a history assignment writing service to create remarkable dissertations under the mentorship of top-ranked Ph.D. experts.
Here are Some Topics Our History Assignment Writers and Tutors have Assisted Students With:
| | | |
| --- | --- | --- |
| 20th Century England | A Global History of Modern Times | A History of Southern Africa |
| American Civil War | Breaking Headlines The History of News | British Colonial Violence in the 20th Century |
| Care of the Soul | Carolingian Civilization | Central Europe |
| Colonial Lives | Culture and Society in Early Modern France | History of the Near East 600 1055 |
| Holland in the Age of Rembrandt | Humans and Germs in History Conference Assignment | Human Rights in Africa An Historical Perspective |
| Identity in Classical Antiquity | Institutional Racism | Intellectuals and Auschwitz |
| International History Empires and State systems | International History States Markets | Islam Law and the State Historical |
| Life of King Tutankhamun | Medieval Law | Vichy France |
| Tagore and his Times | Mainland Southeast Asia | Premodern Vietnam |
| France in Revolution | Ottoman State and Society I | Overlapping Spheres Jewish Life in Early Modern Europe |
| Problems in Medieval History | World Wars I & II | The Great American Revolution |
Don't worry if you cannot find the subject area or topic for which you are looking to get help for an assignment on history. Contact our student support team or share your requirements through chat for detailed information. Our team will analyze the requirements and get back to you at the earliest.
Pay to Get History Assignment Help for All Topics
History Assignments Sample Answers on for Free
Many factors can interfere with high-quality assignment writing. However, thanks to our history assignment help, completing pending or unfinished history assignments will no longer be your concern. Let our experts offer assignment help with history papers and create quality papers up to the mark.
"Will the writer comply with my university guidelines?" Of course! The tutors offering assignment help with history papers belong to the academic industry and are associated with notable global institutions. They are thorough with the standard norms and possess profound subject knowledge to ensure quality and perfection.
Our tutors and subject experts are focused on quality while delivering assignment help in history and go above and beyond to ensure all solutions are nothing short of perfect. Don't just take our word for it; we have ample samples to back our claims. You can check our sample papers on:
NBD2001 Architectural History and Analysis
MHIS 2000 A History Of Terrorism
AFST101-Introduction To Contemporary Africa
HI5016 International Trade And Enterprise
And many others before you sign up with us for extensive history assignment help. We are just a few clicks away from solving your writing challenges. But before that, head to our sample section for more papers and be your judge.
Pay to Get History Assignment Sample
Why Do Students Require History Assignment Help in the UK?
History is all about learning about the past. Now you may argue that what's the point of revisiting the past and wasting time studying about the bygone era? Well, history is the backbone of any civilization, and in order to be prepared for the future, we must have strong knowledge of our roots.
Since the subject varies, students often require a history assignment helper's support to master the subject.
Assignment help services in history have become prevalent among learners worldwide for personalized assistance with complicated assignments. Let's look at some common reasons for getting history assignment help UK.
Why students hire a history assignment writer for assistance is a long list. Irrespective of the reason, if you think, "I need help to do my history assignment," get help. The history assignment helpers at MyAssignmenthelp.co.uk stand ready to assist you with the best study resources and help you excel.
Do You Stuck in History Assignment Writing?
How Our Certified Writer Will Offer Help On History Assignment?
We at MyAssignmenthelp.co.uk handpick the best academic stalwarts and subject matter experts to ensure our students the best study help. Each history assignment writer and subject expert offering history assignment help specializes in different areas of history and is known for their immense contribution to the academic industry.
Seeking history assignment help UK from our tutors will ensure you comprehensive study support. First, our history assignment writers will teach you the chapters from scratch using various interesting teaching elements to make the subject engaging. Then, they will explain the topic and the assignment requirements to eliminate the possibility of all errors.
Throughout the process, you will find our history assignment writers by your side to help you overcome the hurdles students usually come across. From brainstorming and researching topics to writing, citing, and proofreading the solution, our tutors guarantee you the best support so you earn higher grades in class.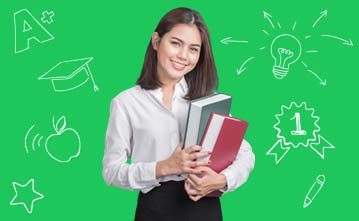 Why Our History Assignment Help Service Stands Among Industry's Best
MyAssignmenthelp.co.uk is a leading name in the academic industry for offering exclusive academic aid on short notice. Our team offering history assignment help has been constantly in the buzz for offering world history assignment help online that is beyond ordinary. In addition to our premium quality world history assignment help online, here are some factors that make us stand out from our contemporaries:
Our tutors offering history assignment help go the extra mile to ensure students get the necessary guidance to improve their subject knowledge and develop new skills.

All our tutors who provide history assignment help on request are MPhil or Ph.D. qualified. With the subject knowledge and industry expertise, you can get the support you need to create well-researched history papers.

The incorrect format or inaccurate citations are no concern for our experts as they are impeccably skilled at formatting all history papers. In addition, they possess in-depth knowledge of different citation styles and can help you cite all sources accurately.

MyAssignmenthelp.co.uk boasts 98% customer satisfaction for offering world History assignment help. We have served hundreds and thousands of students with the best study resources and can help you achieve your academic goals.
Lack of quality, accuracy, and trust are common reasons students avoid getting assignment help in history from online tutors. Fortunately, such factors don't stand true for us as our team is well-equipped to deliver the quality students rightfully deserve. Thus, if you need assignment help in history, you now know where to find us.
What Are The Benefits You Can Get From Our History Assignment Helper?
There's a reason why thousands of students trust us for history assignment help: our guaranteed benefits. The history tutors offering help with a history assignment leave no pages unturned to help students overcome their subject-related challenges and develop an interest in the subject. When you seek help with an assignment in history from our tutors, you rest assured to receive 100% original and accurate work. Additionally, you are guaranteed of:
On-time turnarounds for all deadlines

Unbeatable tutoring fees with year-long offers and discounts

100% data security and confidentiality

No hidden charges or conditions for applying offers

Additional offers on bulk orders

Money-back guarantee on all orders

Free and unlimited access to samples for reference

Attractive signup bonus to get started
Then what are you waiting for? Just fill out the order form on the homepage, pay to confirm the order, and get a tutor for unmatched quality history assignment help.
Pay to Get History Assignment Writing Service
FAQs By Students On History Assignment Help
Q. How do you write an assignment history?
Ans: An assignment history is a document that outlines the history of assignments for a particular task or project. It typically includes information about who was assigned to the task, when the assignment was made, and any important details about the assignment.
To write an assignment history, you will need to gather information about the assignments that have been made for the task or project in question. This can include information such as the names of the individuals who were assigned to the task, the dates when the assignments were made, and any notes or details about the assignments.
Once you have gathered this information, you can begin to organize it into a document. This can be as simple as creating a table or spreadsheet that lists the information in a clear and organized way. Alternatively, you can use a word processing program to create a more detailed document that includes additional information and formatting.
In either case, it is important to make sure that the assignment history is easy to read and understand, and that it provides all of the necessary information about the assignments that have been made. This will allow others to quickly and easily access the information they need to understand the history of the task or project.
Q. How do you start a history assignment introduction?
Ans: The introduction to a history assignment is a crucial component that sets the stage for the rest of the paper. It should provide context and background information on the topic, clearly state the focus and purpose of the assignment, and provide an overview of the main points to be discussed in the body of the paper.
To start a history assignment introduction, begin with a hook or attention-grabbing statement that will grab the reader's interest and draw them into the paper. This can be a provocative question, a surprising fact, or a quote from a historical figure.
Next, provide some background information on the topic to give the reader a sense of context and provide context for the argument or focus of the assignment. This can include a brief overview of the historical period or event being discussed, and any relevant political, social, or cultural context.
After providing some background information, clearly state the focus and purpose of the assignment. This can be a thesis statement that summarizes the main argument or point of the paper, or a research question that the paper aims to answer.
Finally, provide an overview of the main points or arguments that will be discussed in the body of the paper. This can include a brief summary of the key historical events or developments that will be explored, and a preview of the main themes or ideas that will be discussed.
Overall, the introduction to a history assignment should be engaging and informative, providing the reader with a clear sense of the focus and purpose of the paper, and a preview of the main points and arguments that will be discussed.
Q. What Are The Core Historical Concepts?
Ans: In history, the core concepts are sources, evidence, cause and effect, continuity and change, perspectives, significance, contestability, and empathy. All these concepts are vital for developing a student's historical understanding.
Q. What Are The Areas Of History Assignments That We Specialise In?
Ans: Some of our specialization areas include:
Worry not if your area of study isn't listed above. You can share your requirements with our student support team for immediate assistance.
Q. What Format Do Your Experts Use For History Assignments?
Ans: The format entirely depends on the student's requirements and their university guidelines. Our tutors follow the guidelines to the letter to make sure there's no room for mark deductions. Hence, with us, you are assured of getting the best-quality solutions following the standard formatting norms of your university.
Q. How Do Professional Assignment Experts Handle Every Order?
Ans: We have over 3500+ MPhil and Ph.D. qualified tutors, professors, SMEs, editors, and proofreaders to offer students with personalized history assignment help. Once you request the necessary support, our team assigns the most suitable tutor with relevant expertise for the necessary guidance.
First, S/he will help you brainstorm topics and find the best ones relevant to your assignment question. Next, s/he will assist you in researching and gathering credible information and drafting a workable outline.
Throughout the writing process, the tutor will mentor you, guide you, and give productive feedback. Finally, the QA team will evaluate the final draft and run it through several quality checks to ensure 100% originality, uniqueness, and flawlessness.