MBA Dissertation Help
It's no secret that MBA courses can help you secure a high-paying job and a prosperous career. However, after attending a B-school and then serving at a part-time job, you may not get the time for MBA dissertation writing. Well, that's where the MBA dissertation help services of MyAssignmenthelp.co.uk can come in handy for you.
MyAssignmenthelp.co.uk is one of the most popular providers of MBA dissertation writing services in the UK. Over the years, our team of experts has provided UK students with MBA dissertation help online, just the way they need it. You, too, can benefit by availing of our support on MBA Dissertation Help in the UK.
Searching For High-Quality Dissertation Help
Get $20 Signup Bonus
What Topics Covered in MBA Dissertation Writing?
The topics covered in an MBA dissertation can vary depending on the field of study, research interests, and the specific requirements of the program. However, some common themes and areas of focus in MBA dissertations include:
Strategic Management
This involves analyzing the long-term direction of a company and identifying ways to achieve competitive advantage.
Marketing
This involves analyzing consumer behavior, market trends, and developing strategies to effectively promote and sell products or services.
Operations Management
This involves analyzing the production process and identifying ways to improve efficiency, reduce costs, and increase quality.
Finance
This involves analyzing financial data, identifying investment opportunities, and developing strategies for managing risk.
Human Resources Management
This involves analyzing the recruitment, training, and retention of employees, and developing strategies to improve workplace culture and productivity.
Information Technology Management
This involves analyzing the use of technology in the organization, identifying ways to improve efficiency, and managing cyber-security risks.
Entrepreneurship
This involves analyzing the process of starting and managing a new business, identifying opportunities for growth, and developing strategies to achieve success.
Overall, an MBA dissertation should demonstrate the ability to conduct independent research, analyze complex problems, and develop innovative solutions in the context of business management.
Enjoy A Range Of MBA Dissertation Writing Services
As you may realize, dissertation help and writing are one of the most time-consuming tasks in academics. And it involves so many layers of work that it can often be confusing for the students to organize or format the paper. Well, if you are having any problems while MBA dissertation writing, you can approach us for the necessary MBA dissertation help.
Our team of experts is proficient at providing marketing dissertation help with MBA Dissertation Help in the UK as well as other significant aspects of the task. Take a look:
Dissertation proposal writing:
Unless you get your dissertation proposal approved by your supervisor, there's no use for MBA Dissertation Help UK. At MyAssignmenthelp.co.uk, you can get MBA dissertation help online for proposals as well. Our experts take extra care to make them more impressive.
Dissertation topic selection:
If you struggle to pick the right topic for your MBA paper, there's no need to lose heart. You can simply come to us and get our online MBA dissertation help for topic selection. Our knowledgeable and experienced experts can suggest some interesting topics to work on.
Conducting proper research work:
Dissertations are the place where you need to showcase your knowledge of the topic and your research skills. If you are unable to gather enough data for your paper or don't have the time for research, we can help you get in-depth research material for the MBA dissertation writing.
Chapter-by-chapter dissertation writing:
At MyAssignmenthelp.co.uk, our team provides writing an MBA dissertation in the UK, as per the standard dissertation format. It means they prepare every chapter of the paper from the abstract to the results and observation with the use of a proper outline of the task.
Measure to perfect the dissertation:
Once the dissertation paper is done drafting, our team performs multiple revisions of the paper to identify the errors and possible room for improvement. Our experts are skilled proofreaders and can make necessary changes to the paper. They even run plagiarism checks for such errors.
Our team of experts also excels at the bibliographic part of the dissertation. From in-text citations to preparing the referencing list, our team covers everything. Also, we are quite comfortable at handling different referencing styles, including APA, MLA, Chicago, Vancouver, Oxford, Harvard, and much more.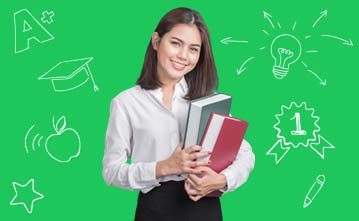 Qualified MBA Dissertation Help Experts Are At Work
You must have already guessed that the MBA Dissertation experts at MyAssignmenthelp.co.uk are quite particular when it comes to MBA Dissertation Help in the UK. However, being professional is only one of the positive traits of these MBA dissertation writers. Here are several qualities of our experts that allow them to deliver top-notch MBA Dissertation Help in the UK to students. You might also check the MBA dissertation help service that offers all help in MBA subjects.
All the MBA Dissertation experts in our team have several years of experience in MBA dissertation writing services. This is the reason why our team of experts is able to handle all kinds of MBA dissertation topics with ease. Also, most of them are connected with the practical field as professionals. This allows them to provide insights into the real deal.
Highly-qualified writers:
Besides being experienced in this line of work, our experts also have the highest qualifications in management and business studies. While all of them have an MBA in their credentials, some of them have even gone on to pursue PhDs as well. So, you can always expect quality support on MBA Dissertation Help UK, whenever you hire our MBA dissertation help experts.
Extremely skilled experts:
The best part about our MBA Dissertation Helper team is that each member is highly skilled in dissertation writing, researching, proofreading, and referencing. In fact, you can expect a quality solution with proper formatting whenever you ask them to help you with MBA Dissertation Help in the UK. We usually take several measures to deliver the most impeccable solution to you.
Since we have hundreds of experts on our team, we are also able to deliver the solution faster than others. So, the next time you need MBA dissertation help, you know where to look for dissertation help experts.
Get MBA Dissertation Examples And Several Other Benefits
There is a very less number of websites that offer such a wide range of dissertation writing services and a team of brilliant writers. Also, only a few websites are there which can help with an MBA dissertation proposal, or assist in creating an intriguing MBA dissertation title. MyAssignmenthelp.co.uk has a solution for all. In fact, here you can avail MBA dissertation examples and loads of other benefits at zero additional cost.
Some of these benefits include:
Flawless content with properly proper citation and referencing
100% original content with an on-demand plagiarism report
On-time delivery of the solution, even with shorter deadlines
Amazing discounts and affordable pricing throughout the year
Free rework support on the unfulfilled orders
Instant response assured from our customer support through 24x7
Safe and secure payment gateways for hassle-free transactions
Free SMS updates to help you track the status of the ongoing order
Moreover, MyAssignmenthelp.co.uk offers free MBA dissertation samples and insightful blogs which can help you to write my dissertation on MBA Dissertation topics. So, get your MBA dissertation projects and law dissertation help from us and secure higher grades this semester.
Myassignmenthelp.co.uk Dissertation Help Main Advantages
Get Instant Dissertation Writing Help
Place Your Order
Related Dissertation Help Services Covered By MyAssignmentHelp.co.uk
FAQs on MBA Dissertation Help
Q. What is a Dissertation in MBA?
Ans: A dissertation is a type of scholarly document which demonstrates the ability of the scholar to conduct research that makes an original contribution to theory or practice in a particular subject area. In the case of an MBA dissertation, the document should highlight original research that adds value to the field of management and business administration.
Q.How to Structure an MBA Dissertation?
Ans: An MBA dissertation is no different than any other academic dissertation paper. An ideal MBA dissertation should adhere to the following structure:
Abstract
Introduction
Literature review
Methodology
Results
Discussion
Conclusions
Q. How Much Longer is an MBA Dissertation?
Ans: An MBA dissertation may consist of any particular number of pages between 21 and 2001. However, on average, an MBA dissertation should be about 100-200-page long.
Q. How do I Choose an MBA Dissertation Topic?
Ans: While choosing an MBA dissertation topic, you should consider the following criteria:
The interest of the primary audience, i.e. the faculty and other scholars
Your own preferences and likings, within the fields of management and business
The depth of information available on the topic
The topics that comply with your curriculum
Q. How do you Write an MBA Dissertation Methodology?
Ans: While writing an MBA dissertation methodology, you need to add the following details:
What kind of research have you conducted for the paper?
The process or methods used for data collection.
The method of data analysis
What tools or materials you used in the study?
Your justification for choosing these methods