Logisim Assignment Help
Does the thought of producing flawless Logisim assignment help seem too dreadful? It won't be surprising if it does, considering the complexities of the software. Logisim is a logic simulator software that students of computer science are required to master. Now if you find it difficult to work on this software, then there is a solution to it as well. That solution comes in the form of Logisim assignment help at MyAssignmenthelp.co.uk. Let's get you acquainted with the different aspects of Logisim that our assignment experts assist you with.
Looking For Logisim Assignment Help?
Place Your Order and Get $20 Signup Bonus
What Topics Covered For Logisim Assignment Writing?
Logisim is a digital circuit design and simulation tool that allows you to create and test circuits using a graphical interface. Here are some potential Logisim assignment topics:
Design a digital circuit that implements a given Boolean function. Students could be given a Boolean expression and asked to design a circuit that produces the desired output. This could include creating truth tables, simplifying expressions, and implementing logic gates.

Implement a simple arithmetic circuit. Students could design a circuit that adds two numbers together, or performs another simple arithmetic operation.

Create a circuit that demonstrates sequential logic. Students could design a circuit that includes flip-flops or other memory elements, and test its behavior by simulating different input sequences.

Build a simple computer system. Students could design a circuit that includes a CPU, memory, and input/output devices, and demonstrate its functionality by running a simple program.

Create a project that incorporates both hardware and software components. For example, students could design a circuit that interfaces with a microcontroller, and then write a program to control the circuit from a computer.

Implement a circuit that solves a real-world problem. Students could identify a problem in their community or everyday life, and design a circuit that solves the problem in some way (e.g. a circuit that automates a task, or a circuit that provides some kind of sensor feedback).

Explore the design space of a complex circuit. Students could be given a complex circuit design (e.g. a processor or digital signal processing algorithm) and asked to explore the trade-offs between different design parameters (e.g. speed, power consumption, complexity). This could involve simulating the circuit with different input parameters and comparing the results.
These are just a few potential Logisim assignment topics. The possibilities are nearly endless, as the tool is highly flexible and can be used to simulate a wide range of digital circuits.
Get Components of Logisim Assignment Help
As a student of computer science and programming, you will be required to work with Logisim on a frequent basis. This means you need to be acquainted with all the different sections and components of this tool. But it's possible for you to get confused while exploring the different components. However, you can eliminate your confusion with our remarkable Logisim assignment help. Our Logisim assignment help service is created to provide you with a proper understanding of the components of the software.
Logisim organizes the tools into libraries, and they're included in the explorer pane. The library consists of several elements like base, gates, arithmetic, plexers, memory, input-output, etc. Our assignment experts on Logisim assignment help us know the explorer pane like the back of their hands. That's how they are able to churn out the best logisim assignment help.
The ROM and RAM components are two of the most useful components within Logisim's libraries. However, because of the bulk of data they can store, they are also two of the most complex components in the software. Our Logisim assignment experts are well-versed in how to use the information stored in this section.
Menu reference on Logisim
This section highlights the six menus that accompany every Logisim window. These six options are, the edit menu, file menu, project menu, simulate menu, window, and help menu. In case you are baffled by this section, you need to opt for our excellent Logisim homework help. Our Logisim assignment experts are equipped with a complete understanding of the menu references.
With our computer network assignment support, you'll gather proper knowledge of the different components of the Logisim tool. This will help you obtain impressive grades in class.
Eliminate Challenges with Logisim Assignment Help
Receive tasks with an optimum accuracy level
There are many layers and sections to the software that requires in-depth understanding when you work on it. Now, making mistakes is normal when there are so many sections to explore. But it's also important for you to grasp these complex concepts to get ahead in your career. This is why availing the assistance from our Logisim assignment experts always works out well. Our computer science assignment experts on Logisim assignment help services will help you avert the challenges with their efficiency.
The following are some of the challenges of working on this software that our experts help eliminate.
Other than the issue of gate delays, Logisim doesn't specifically concern itself with timing issues. It's quite idealized so that a pair of NOR gates in an S-R latch configuration will toggle in lockstep infinitely, instead of the circuit eventually settling into a stable state.
Logisim can't simulate sub-circuits whose pins sometimes behave as inputs and sometimes behave as outputs. Elements developed using Java can have such pins. Although within the built-in libraries, the Memory library's RAM circuit consists of a D pin that serves both as an input and as an output.
Logisim discontinues its simulation after a fixed number of iterations perceiving that there is an oscillation error. However, a large circuit that doesn't oscillate could lead to trouble.
Logisim does nothing in case of discriminating between voltage levels: It only consists of options like on, off, unspecified, or error.
These challenges won't threaten your academic progress when you avail the excellent Logisim assignment help from our website. Our services on Logisim simulator assignment help are designed to drive away every little concern that threatens to hinder your progress.
Do You Stuck in Assignment Writing?
Ensure Academic Success with Our Logisim Assignment Help
Learn Logisim tips and tricks from our experts
Logisim software is commonly used by students of computer science to design and experiment with digital circuits in simulation. The software uses a graphical user interface that is similar to traditional drawing programs. But even then having difficulty in deciphering the complex functions are quite natural. In this case, our Logisim simulator assignment help will provide you with some brilliant insights when you ask for their support.
Here are some tips and tricks suggested by our experts on Logisim assignment help services.
Connect the splitters to gates (or splitters to splitters)
Negate an input into a gate
Change the appearance of logic gates
Reverse the distribution of splitters
Change the appearance of splitters
Incorporating names into your input and output by double-clicking
Moving multiple components at once
Changing the format of input and output
Going into a sub-circuit and moving back to the main circuit
These tips will assist you to get through the logic simulation process by maintaining accuracy. Alternatively, you can choose our services on Logisim assignment help to assist you in the process of logic simulation. This will allow you to gain expertise in this software and guarantee your progress in the long run. You won't have to compromise on your grades with our assistance.
Choose Our Affordable Logisim Assignment Help
Bask in your academic success and prosperity
Presented below are some features of our affordable services.
Brilliant discounts and deals
Choosing our logisim simulation assignment help lets you enjoy different discounts. For instance, if you're placing an order on our site for the first time, you'll be eligible for a 30% discount. You can also use various seasonal discounts while obtaining our Logisim homework help.
Excellent refer-and-earn system
You'll also get to opt for a unique refer-and-earn policy when your are avail of our Logisim assignment help services. When you refer our services to your friend, you and your friend will receive a referral bonus. You can redeem these bonus points while placing your next order. This has made opting for our Logisim simulator assignment help all the more convenient.
No imposition of additional charges
We extend complete transparency in our pricing structure. This means you will never be charged anything extra when you select our Logisim homework help. You will only have to pay for the services you avail. We also don't charge extra for our free services. Thus, you can rely on our services to ensure you receive complete value for your money.
To take your convenience a few notches higher, we also provide secure payment methods. That way, you can carry out the transactions easily. This affordability is what makes us one of the best Logisim assignment help providers online.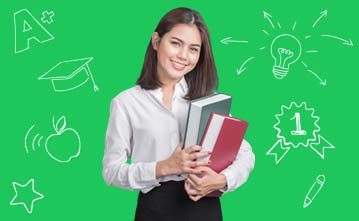 Related Services Covered By MyAssignmentHelp.co.uk
Frequently Asked Questions about "Logisim Assignment Help"
Q: What is Logisim?
Ans: Logisim is an advanced educational tool to design and simulate digital logic circuits. With its basic toolbar interface and simulation of circuits as you create them, it's convenient enough to facilitate learning the most basic concepts associated with logic circuits. Logisim is used to design and simulate entire CPUs for educational purposes.
Q: How long will it take to do my Logisim Assignment?
Ans: When you delegate your logisim assignment to our experts, you'll need to specify the time you want to receive the tasks. Our writers will prepare your papers within the time you decide. These experts have maintained a brilliant record of providing every task well before the specified time. Hence, you can rely on their assistance.
Q: Does Myassignmenthelp.co.uk provide 24x7 Support?
Ans: One of the many reasons why students prefer opting for our website is because of our responsive customer support. We have always endeavored to maintain open communication with our clients. Hence, you can reach out to us at any time, be it via calls, email, or social media. We also have a live chat facility through which you'll receive an instant response from our customer support executives.
Q: Does Myassignmenthelp.co.uk provide Quality Papers?
Ans: The quality of your tasks is our foremost priority when you choose our academic service. Our efficient writers will follow all the steps that will ensure you submit a flawless paper in class. Right from research to revision, they will take care of every little step. Our website also maintains a strict quality control policy, so your tasks will always turn out perfect.
Q: How Myassignmenthelp.co.uk can help me to get Good Grades?
Ans: If you're falling behind in grades, then choosing MyAssignmenthelp.co.uk will solve that. Our services are created with the aim to help you secure good grades in class. So, you won't fumble when you have our assistance with your academic papers. You simply need to approach us on time, and we'll take away all your academic troubles.