What would you do if you wanted to find out something about an individual? You would simply ask him/her. Now, what would you do if you aim to ask a couple of questions to a group of people? You will get them together as a group and ask.
But what will you do if you want to research these answers? You will hand over a questionnaire.
Questionnaires are an integral part of any research and dissertation. Countless other tools are utilised to find out about how people feel, think, and act. However, asking remains central to figuring out what people will think explicitly.
Though questionnaires have been most likely used for thousands of years, the first recorded instance was found in Aldophe Quetelet's work. The 1835 French Polymath was interested in implementing similar rigorous methodologies applied to natural science and the humanities. It is through the recording of questionnaires he discovered the field of sociology. This all can be summed up to say – questionnaires can be powerful weapons.
If you are also one of those million students baffled by 'how to write a questionnaire for a dissertation', then you don't need to search far and wide. Now that you have landed on the perfect guide about analysing and creating a dissertation questionnaire, let's make the process 100X easier. We have enlisted significant guidelines fraught with lucid sample questionnaires for dissertations that will help you nail your next questionnaires like a pro.
Ready? Let's get started, then!
Looking For Dissertation Help for Questionnaire
Get $20 Signup Bonus
What is a Questionnaire for a Dissertation?
Before learning how to write a questionnaire for a dissertation, it is important to comprehend and develop an in-depth understanding of the questionnaire in a dissertation.
Questionnaires are a specific set of written questions designed to assimilate standardised information about the opinions, experiences, preferences, intentions, and behaviour of individuals. It can be designed for a scientific study.
Questionnaires in a dissertation can be used to collect quantitative and/or qualitative information. A questionnaire may or may not be delivered in the form of a survey, but a survey always comprises a questionnaire.
Here are certain essential attributes of an excellent questionnaire that must be kept in mind while designing questionnaires for a dissertation–
Uniformity
Questionnaires are incredibly useful to gather demographic information, personal opinions, facts or attitudes from respondents. One of the most important attributes of a dissertation questionnaire is uniformity in design and standardisation.
Every respondent should see the same question. This helps in the smooth collection and statistical analysis of the data.
Like, the retail store assessment questionnaire template for the dissertation comprises critical questions for assessing retail store experiences. The questions mainly focus on purchase value, a diverse range of options for product selections, and merchandise quality. These questions are uniform for all customers.
Exploratory
The questionnaires for a dissertation must always be exploratory to gather qualitative data. There is no limitation on questions that can be asked in the questionnaire.
For instance, you design a data collection questionnaire and send it to the female of a household. You want to understand her saving and expenditure habits relative to her household income. So, designing open-ended questions in this scenario will provide crucial insights. It will also help your respondents to describe their practices with ease.
Question Sequence
A good questionnaire always follows a structured flow of questions to increase the response numbers. This sequence includes screening questions, transition questions, warm-up questions, skip questions, difficult questions, and classification questions.
For example, a motivating and purchasing experience questionnaire template comprises demographic questions. It also enquires about time spent in different sections of the store and the rationale working behind these purchases.
Getting the hang of it? We are sure you are. Let's go to the next section to find out how to make a questionnaire for a dissertation.
Tips for Writing Questionnaire for a Dissertation
How should you go about writing a questionnaire for the dissertation? The key is effective planning and preparation.
Though designing a questionnaire can seem incredibly simple at the surface, it has numerous elements you want to ensure you get right. Before you know how to phrase your questions exactly, you will require defining the objectives and aims of the research, know who you will be speaking to, and devise everything accordingly.
Have a look at certain effective guidelines given below that will enable you to do exactly this remarkably and easily –
Define the Goals and Objectives of the Research
A close look at questionnaire examples for a dissertation will help you understand that the first step of designing a question is to figure out the aims and goals of your research. Try to figure out the answers to the following questions –
What experiences or topics are you studying?

What specifically do you aim to find out from the research?

Is a self-report questionnaire the perfect tool for researching this topic?
Once you are done understanding the aims of the research, you can easily operationalise your variables of interest into the questionnaires. Operationalising concepts implies converting abstract ideas into concrete measurements. Also, make sure every question addresses a defined need and has a clear purpose in the research.
Use Questions that are Apt for Your Sample
A close look at websites with cover letters for a questionnaire of dissertations will reveal that it is significant to create suitable questions by considering the perspective of your respondents. Hence, it is crucial to consider their proficiency in language and available time and energy while designing your dissertation questionnaires.
To do this successfully, you can consider the below-enlisted aspects –
Are the respondents well-versed with the terms and language used in the questions?

Will any of the questions baffle, insult, or embarrass them?

Can the response items for any close-ended questions capture all possible answers?

Are the response items mutually exclusive?

Do the respondents have enough time to respond to open-ended questions?
Make sure to take into consideration all possible response options for closed-ended questions. A lack of response choice can mirror their perspective, or a true answer can make them feel excluded or alienated. As a result, they may become disengaged or inattentive to the rest of the questionnaire.
Determine the Questionnaire Type
Once you have your questions ready, it is essential to decide the kind of questions (straightforward or unambiguous) you want to include in your dissertation. You also need to ensure the length and order of questions suitable for your sample.
If you are not compensating or incentivising your respondents, keep the questionnaire brief and easy to answer. Or, your sample may be biased, with only hugely motivated respondents completing the questionnaire.
Also, make sure to determine the order of the questionnaire based on the aims and resources. Use a logical flow if your respondents have limited time or if you are not able to randomise the questions. When you randomise questions, you can prevent any kind of bias successfully.
Create an Introduction
When you write a questionnaire for a dissertation, you will want as strong a response rate as possible. And, any meaningful actions you can take will hugely depend on the reliability and the quality of the response data.
This is why writing an introduction to your questionnaire is incredibly significant. Further, you only get a short window of time to hook the attention of respondents and encourage them to participate in the survey. So, not only your introduction needs to be appealing, but the essential aspects of what you aim to incorporate in the questionnaire are also crucial.
While writing the introduction, ensure to incorporate the below-enlisted aspects –
Mention Who You Are
People will be hesitant to share any data with an unknown person, so providing your name and some basic information about yourself is crucial.
For example, you have to write my dissertation on a questionnaire for skilled Chinese immigrants who have got jobs in Canada. So, you can start the introduction for your questionnaire with something like this – "Hello, I am a year five student from International Studies at the French University of Nottingham, Ningbo, China. I am now doing research for my dissertation. It would be great if you could fill out the survey and type your name in the header (both Chinese and English are fine), and send it to (email ID). Thank you so much for your help!"
Explain to Them Why They've Been Selected
Each questionnaire has a target audience. However, if you can quickly let your respondents know what it is about them that fits your criteria, it will increase their recognition and interest in aiding you.
Like, here you are targeting skilled Chinese immigrants as your audience. So, you can write something like –
"Wondering why you are getting the survey? I am looking to understand the perspective of skilled Chinese immigrants who got jobs in Canada successfully. This is why you are the ideal fit!"
Describe How Long Will it Take to Complete
Try to be honest and upfront about the length of the questionnaire. Usually, most people prefer short surveys. So to ensure they fill out the whole questionnaire, try to limit yours to essential questions only.
For instance, you can write something like this – "I appreciate how valuable your time is. This is why I have incorporated only a few vital questions. It should take you no more than two minutes in total to complete."
Reassure Them About the Anonymity
Make sure to be clear and upfront about this. Let your respondents know exactly how you wish to use their data. Also, mention which data will be anonymous and which will not. If you do this, your respondents will answer all your questions honestly.
For the above-mentioned example, you can write something like – "The results of this questionnaire will give me crucial insights into how skilled immigrants of China are getting their jobs in Canada. It will also help me understand what kinds of qualifications are required and whether you are satisfied with the current job. But don't worry; I will make sure not to spam you in any way. And your responses will be completely anonymous."
Do Not Forget to Thank Them
Ultimately, your respondents are giving up their time for your benefit. So, incorporate a thank you line somewhere in the introduction.
Structure the Questionnaire
Now comes the time to structure the paper-based or online questionnaire for the dissertation. Remember, the questionnaire for any dissertation will have a range of objectives. So, it can require qualitative or quantitative methods or both.
The structure of the questionnaire can be divided into three types as per the requirements of the dissertation –
Structured Questionnaire
This denotes close-ended questions with predefined answers. This type of questionnaire is used in large surveys. This type of questionnaire can be carried out through mail, telephone interviews, online surveys, etc.
Semi-Structured Questionnaire
The semi-structured questionnaire combines close and open-ended questions. This type of questionnaire can be included in business or marketing dissertations where a large number of responses is required.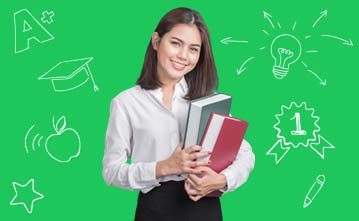 Pay to Get Dissertation Writer for Questionnaire
Unstructured Questionnaire
This type of questionnaire is designed to get free responses and mainly includes qualitative questions. This kind of questionnaire comprises a list of questions with apparent order but is not as rigid as the structure of the other two questionnaires.
Now, make sure to remember the question you develop is a concise and direct method. Use a simple method to ask all the questions. Avoid asking too many questions at this time. Also, while structuring, make sure to include a vital question at the beginning of your questionnaire.
Start with Demographic Questions
Generally, a questionnaire comprises three main sections – Demographic, General Background and Inferential. Try to begin your questionnaire with demographic questions.
This segment should gather important information about the respondents, like age, gender, income, education, ethnicity, educational qualification, employment status, marital status, location, and the like.
For instance, you can begin your questionnaire on Chinese skilled immigrants who have got jobs in Canada with questions like –
Are you a male or female?

What is your age?

Have you got a Bachelor's Degree in China?

Are you married?

Where do you stay in Canada?
Use Clear and Concise Language
Designing a questionnaire template for a dissertation is a multistage process that demands attention to countless details at once. The process is incredibly challenging as surveys can ask about topics in different degrees of detail, and questions can be asked in countless ways. Further, the way questions are asked can influence how people will respond to later questions.
Thus, it is incredibly important to use clear and concise language while designing the questionnaire for your dissertations. Here's what you need to keep in mind to do this effectively –
The questions in the dissertation shouldn't incorporate any jargon

Each question must be short and to the point

The scales used in the question must be provided in the factsheet

The instructions must be detailed and easy to comprehend, even for non-professionals

The questions should always be placed in a logical order

Select the words that convey your meaning clearly

Eliminate unnecessary phrases and redundancies

Write in active voice

Shorten the wordy phrases

Remove extra nouns and filler words like 'that', 'of', 'up', etc.
Avoid Leading or Biased Questions
Remember, the survey needs to be objective. All questions should be neutral to get clear and objective answers from the respondents. So, try to avoid including leading or biased questions in your questionnaire.
This is mainly because leading questions tend to guide respondents towards answering in specific ways, even if that's not how they truly feel. Leading questions also tend to explicitly or implicitly provide the respondents with extra information, which leaves them confused.
Hence, always keep your questions short and specific when designing them for your dissertation.
For instance, avoid including leading questions like this – "Nutritionists agree that a well-balanced diet offers sufficient minerals and vitamins. One doesn't need to take multivitamins and supplements as they are not effective or necessary. Do you agree or disagree that multivitamins are necessary for balanced nutrition?"
Instead, you can simply ask – Do you agree or disagree multivitamins are helpful for balanced nutrition?
Use a Mix of Question Types
Before you know 'how many questions to design for the dissertation questionnaire', it is essential to know the questions you need to include in the questionnaire. If your entire questionnaire is structured in the same way, chances are the respondents are likely to become bored and tune out. That could imply they pay considerably less attention to how they answer.
Rather, try to mix up the kinds of questions asked to keep the experience intriguing and varied. It's wise to even incorporate questions that generate both quantitative and qualitative data.
Like, an open-ended question such as 'Explain your attitude to life' will offer qualitative data. This is a kind of information that's rich, unstructured and unpredictable. The respondent will be able to explain what they think and feel in their own words.
On the other hand, a quantitative or close-ended question like 'Which word describes your attitude to life? – a. philosophical b. practical' will offer you a more structured answer. However, the answers will be less rich and detailed in nature.
Keep it Concise
Remember to always keep your dissertation questionnaire concise. As you draft the questions, consider whether they will finally answer your research objectives or add valuable context. If not, remove them. If some of the other questions are still valuable but are not based on the same topic as the main questionnaire, try to save them for another study around those specific objectives.
When you keep your questionnaires in a dissertation concise, it provides a more enjoyable user experience and increases response rates. A shorter questionnaire also means lower costs for you.
The longer your dissertation questionnaire will be, the more it will cost to source respondents to respond to your questionnaire.
Pilot Test the Questionnaire
When you have designed a complete set of questions, you will require pre-testing it to ensure what you are asking is always clear and unambiguous. Running a pre-test will enable you to catch errors or confusing points before studying.
Ask your friends, classmates, or members of the target audience to finish the questionnaire using a similar method you will use for the research. Try to find any questions that were especially challenging to answer if the directions were unclear or inconsistent. Make the required changes.
If you have enough resources, running a pilot study will enable you to test the validity and dependability of the questionnaire. A pilot study is the practice run of the whole study. It incorporates sampling, collection of data, and analysis. You can also understand whether your procedures are unfeasible or susceptive to bias. However, it is not possible to test a hypothesis with this kind of study as it is generally statistically underpowered.
Creating an effective questionnaire for a dissertation will take some thought and patience. However, implementing these foolproof strategies will enable you to nail your questionnaires like a pro.
Let's now look at some lucid sample questionnaires for dissertation to connect the relevant theory to the practice –
How Does Our Writer Help to Write a Questionnaire for a Dissertation?
Are you struggling to craft the perfect questionnaire for a dissertation? Is designing the consent form for the dissertation questionnaire shooting your anxiety levels?
Keep calm and seek assistance from the experts of MyAssignmenthelp.co.uk.
We struggle to design the perfect questionnaire to meet your dissertation objectives. Our professionals ensure to craft questions that will probe the most vital questions in the research. We also arrange the questions logically to make sure there is a link between all the questions that are connected with the dissertation topic.
Further, our team of prolific proofreaders and editors go through the questionnaire multiple times to eliminate any grammatical errors, and there is enough space for the respondent to answer any kind of open-ended questions. Still have doubts about whether we can craft the perfect questionnaire for you? Simply drop a ping on our Live Chatbox and let our customer support team bring an end to all your academic concerns in a jiffy.
Need Dissertation Writing Service for Questionnaire?
FAQs On Questionnaire for Dissertation
Q. What is the purpose of writing a questionnaire in a dissertation?
Ans: A questionnaire in a dissertation helps you assimilate consistent and comparable information from your study population to facilitate the success of the dissertation. The key objective of a dissertation questionnaire is to enable the researcher to determine those vital areas of the topic that are crucial for assimilating maximum information about the discipline.
They are incredibly vital tools when assimilating data. Hence, they must always be designed objectively to prevent them from affecting the validity of the research.
Q. What are the key considerations when designing a questionnaire for a dissertation?
Ans: The key considerations that should be kept in mind when designing a questionnaire for a dissertation are –
It should be valid, clear, reliable, succinct, and intriguing

It should always be designed based on a conceptual framework

It must scrutinise every question for clarity and relevance

It should take into account the analysis that will be performed at the end of the day
Q. How to write a questionnaire page for an undergraduate dissertation?
Ans:
Identify the requirements of the research.

Define target respondents

Select a method for contacting the target respondents (personal interviews, online surveys, etc.)

Formulate your questions with proper wording

Arrange your questions in the proper format and order

Verify the authenticity of your questionnaire by pre-testing it on a small group of people
Q. How do I determine the sample size for my questionnaire?
Ans: Generally, three to four factors are evaluated or estimated to determine the sample size for the questionnaire –
The effect size (usually the difference between 2 groups)

The population standard deviation for continuous data

The desired power of the experiment to figure out the postulated effect

The level of importance
Q. Should I include citations or references in the questionnaire?
Ans: Yes. It is crucial to cite a source in a questionnaire. You can follow the below-given format to include citations or references in the questionnaire –
First and Middle Initials Last Name (Survey, Date, Year)
Example – As per the survey of the students conducted by A.N. Mayer, 80% of students like to save money on textbooks by using library books. (Survey, Date, Year)
Q. Should I use an online or paper-based questionnaire?
Ans: It is always better to use online questionnaires. Though paper surveys are more accessible, online surveys can be sent out and completed faster than paper surveys. This can be important for research that requires being completed quickly. Again, online surveys offer more freedom as they are easy to change and keep updated. Once paper surveys are sent out, it can be difficult to change them.
Again, online surveys have more response rate. They also can provide remarkable data as they have skip patterns, branching and other features that make the survey more interesting for people filling it out.